What are your explainer video options you might ask?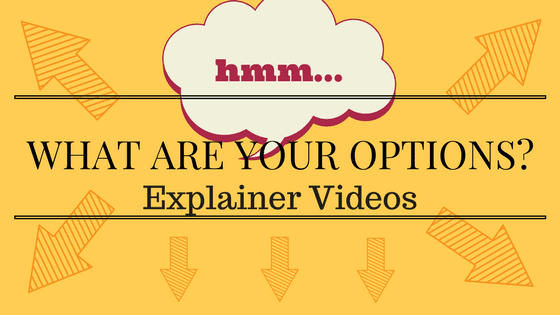 If you're reading this, chances are you're considering whether or not to make an explainer video for your company's marketing campaign.
Considering you're also on Punchy Digital Media, you are in a great place to look into it further.
Through the explainer video process, we will guide you at every stage!
But you may be wondering which video service would best help you, BEFORE you get in touch with us.
We have a lot on offer, so heres a rundown:
You may have noticed that whiteboard animation videos are very popular for an explainer video. This is due to a number of reasons, but most importantly, they're cost effective, quick and engaging.
Whiteboard animations are commonly used for training and education purposes. This is good for creating a video series because it's cost effective when trying to pilot new products/services for a low investment.
They convey messages clearly and in a straightforward way, but you don't necessarily have to put extra effort in making the visuals super appealing.
A whiteboard animation explainer video is exactly how it sounds, it looks more like a sketch rather than a cartoon video. The simplicity is justified because of the very 'to-the-point' nature of whiteboard animations.
Motion graphics video without script
Motion graphic videos are similar to whiteboard animation videos, but they're colourful and therefore more attractive.
The advantages of doing a motion graphics video without a voiceover is again that it's generally more cost and time effective.
They are best used for shorter videos and information that doesn't need a great deal of detail to understand.
For example our Lifeline Hunter Central Coast explainer video is bright, eye-catching, has some written important information and is easy to digest.
This type of video can easily be viewed whilst on the go, especially if you've forgotten headphones, but can still be understood.
The message is clear without the need for voiceover!
 Motion graphics video with script and voiceover
These types of videos are very popular with explaining a new concept or for large amounts of information. These motion graphic videos range drastically in how they can be created. You can choose to voice it yourself, or we have a range of professional voice artists to read your script for you!
By using various fonts, colour combinations, and different illustration styles, along with a voice to guide you through the video are perfect for startup companies.
These types of motion graphic videos are also great at explaining complex products or the flow of the services you're offering. Heck, it can even show your audience something they can't see in real life.
For example, trying to explain how Autosomal Recessive Disorders (ARD) work, would be very challenging, because it's about our genetics!
Yet here, in this motion graphic video ARD becomes a lot easier to understand and a lot more friendly, due to its use of cartoon drawings as well.
 Cartoon-like Animated video 
This is popular because your explainer video is created as if you were filming an actual person, but using animation instead.
Animated videos are great at showcasing real life situations in a fun and different way. A cartoon animation video is exceptionally good for expressing emotions and paying closer attention to details. They also let us reminisce the days when figuring out which cartoon to watch was a big deal.
Kidding, of course. But it's also kind of true.
Cartoons have been part of many people's childhoods and bringing them back will invoke good feelings. Cartoons make us feel at home and joyful, whilst also conveying an important message.
 Corporate Video Production
Okay, I get it. Enough with the animation videos! Don't stress, we also do real-life videos.
Punchy Digital Media have a range of corporate video productions if thats more your style.
These types of videos are great to let your audience know exactly who you are and what your business is about. It's a way to connect and earn peoples trust on a more personal level. Some consumers enjoy and appreciate seeing the people behind a business and can work wonders.
They're great for promoting your business and relaying a lot of information. However, Corporate Video Production will generally take longer than an animated video for multiple reasons.
We need to consider time to film interviews, organise days where everyone is available, setting up, scripting, creating high quality sound and visuals etc.
If this is the road you want to head down, really think about your filming location ideas and who will be in the video. These corporate video productions are a great form of promoting, but can look 'set-up' or 'fake' really quickly!
Lucky us professionals have your back, for 1 person:
or many:
Plus we can basically figure out a solution for any sort of video you were after, so what are you waiting for?
Gemma Rowley.