Optimise search results on your YouTube videos today

So, you've got a digital marketing video ready to go! You've put it on your site, now you should put it on YouTube to gain traffic. Or vice versa, some put it on YouTube first.
Regardless of which way you do it, Youtube is a great way to get traffic if you do it right!
It's easy to forget about SEO's on YouTube, considering it is a video platform after all and not written words for Google to pick up on. But there is a lot of writing on YouTube that you might not even remember to use SEO's for.
Think about it!
You can really optimise your business by focussing on simple things like the video title, tags, descriptions, and thumbnail of your marketing video.
These can be generally overlooked or done in the wrong mindset, so it's time to use this to your advantage, if you aren't already!
VIDEO TITLE:
Your video title should address a problem that your users have. It's going to be the main tool that helps your video pop up first. Create a title that will engage your audience to click on, but also be relevant to what they would search on YouTube.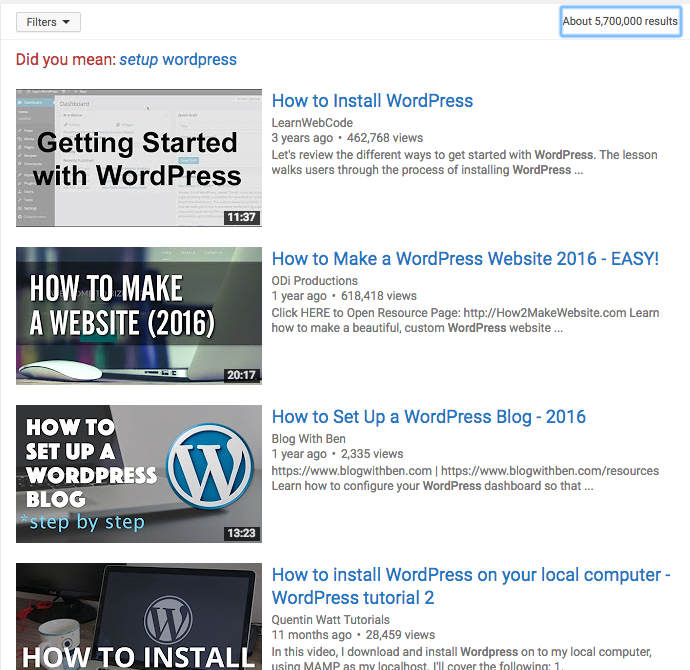 TAGS:
In terms of tags, 10-12 tags is a good ballpark to aim for. Any more and the tags sort of get lost or overlooked. Know your main topic points and tag them. Simplicity is your friend.
THE DESCRIPTION BOX:
The description box is also a great way to use SEO's, so choose keywords that are relevant to the video's topic.
It exists to let your viewers know more about your video and your business in general. Perfect, just what you want!
But keep in mind that after a few lines, YouTube cuts off the description with a "Show More" option:

The best way to deal with this is to make sure you start off with just a couple of lines about your business and the exact video, so viewers can see it without having to click on the "Show More" tag. This is important because you need to grab your audiences attention right off the bat, just in case they don't click the "Show More" button.
A good idea is to also put a link to your site and social media accounts in the description box to drive traffic. Who wouldn't want more views on their stuff?!
This could do really well for you, or it could make no difference. But lucky for you there is a way to track how many clicks your getting from that exact link. Cool huh?!
It's called putting a UTM parameter on your link, to track how many clicks you're getting.
If you do include a link in your description, make sure it starts with http:// or https://. If it doesn't, your viewers won't be able to click directly on it. (They'll have to copy and paste it and that's annoying.)
THE ABOUT PAGE:
This can also work on the 'About' page of your YouTube channel which a lot of people also tend to forget.
And there's no doubt that any user is probably going to find one of your videos and not your channel.
But your channel is still an important part of the formula.
If someone is really interested in what you're doing, they're going to check out your about page, so there needs to be links to your site/social media, as well as a succinct write up about your business in this spot. Remember to also use key SEO words without sounding like a robot, make it seem natural.
Then there's the big, important one!
THE THUMBNAIL:
Remember, many people decide to watch a video based on the thumbnail alone, so put some serious effort into this step.
There's no exact formula for a good thumbnail, so you will need to experiment with eye-catching ideas and see what works for your business and audience. However, some handy things to remember is to firstly name your thumbnail image with your SEO words before editing.
Then, a general thing to remember when editing a thumbnail is to really up the brightness and contrast, to catch your audiences attention. No one is going to click your video if it's dull and boring!
It also needs to basically sum up whats going to be in the video, or an exciting part of the video that will entice the audience.
So hopefully now, you're more aware of how to utilise YouTube to your advantage and optimise your search results on your obviously killer video!
BUT, if you don't already have an obviously killer marketing video in mind, check out what we at Punchy Digital Media could do for you at https://www.punchydigitalmedia.com.au 
Gemma Rowley.