Online Video is the new TV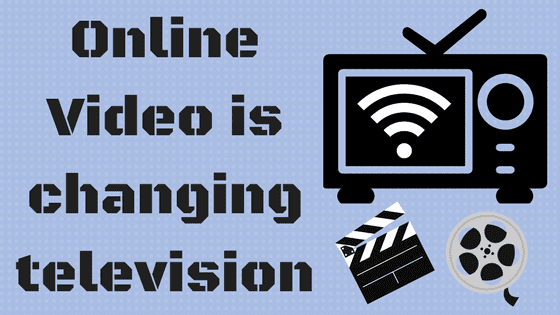 Online video is changing the way consumers watch content on TV, it's not just on their laptop or mobile devices anymore!
For starters online video itself is becoming more and more popular.
By the end of 2015, almost three million Australians 14+ had access to at least one on demand subscription service. Netflix has by far dominated the online video market, which alone reached over 2.7 million Australians by the end of 2015 and only continues to grow.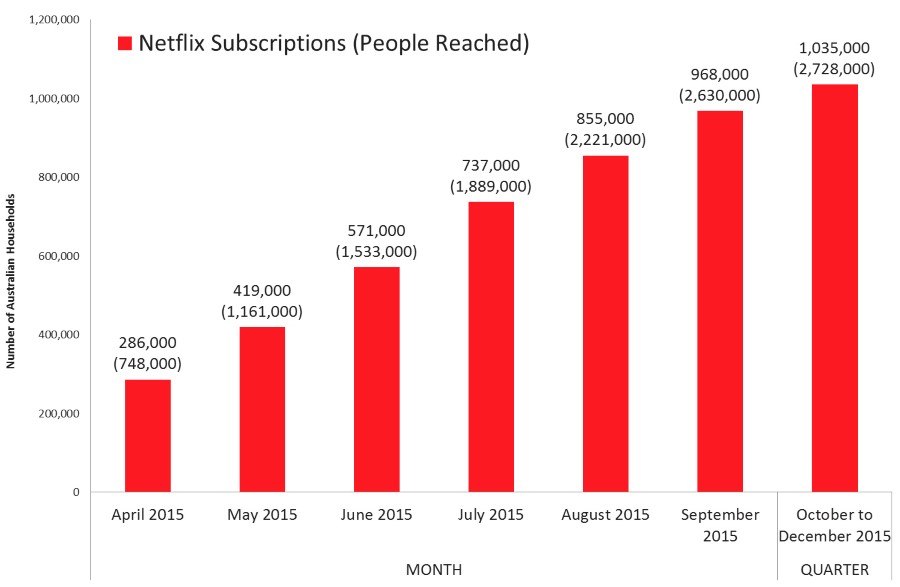 Source: Roy Morgan Single Source Australia, April – September 2015, average monthly sample n = 4,306, October to December 2015 quarterly sample = 12,461 Australians 14+
However the most interesting part is seeing how this impacts Commercial TV.
Whilst regular TV content is still popular, its length and level of engagement is decreasing.
In 2016, one in five 25-34 year-olds (20.7%) watched no Commercial TV at all and instead were watching online video!
PERCENTAGE OF AUSTRALIANS WATCHING ZERO COMMERCIAL TV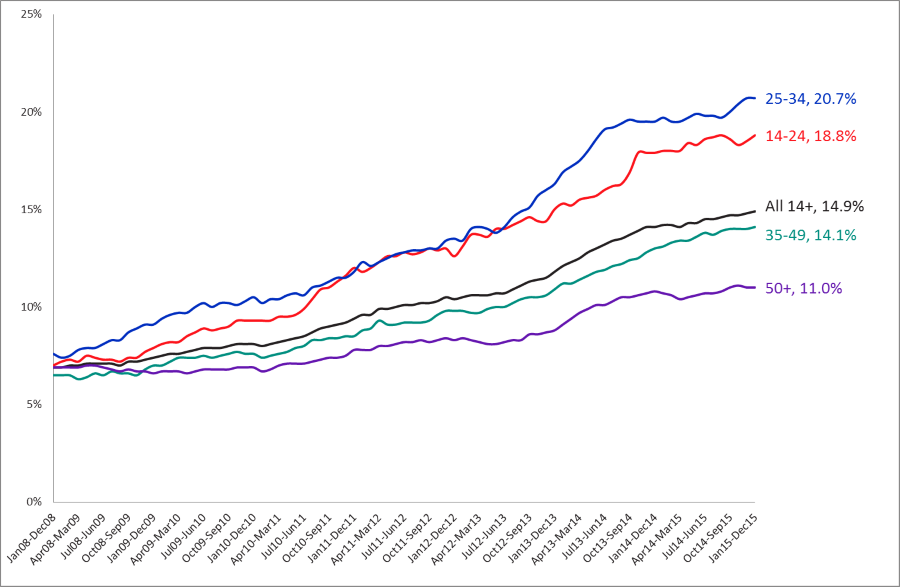 Source: Roy Morgan Single Source, January 2008 to December 2015, average annual sample n = 51,442 Australians 14+
The funny thing is, the television screen is now highly being used for online video services such as YouTube, Netflix, Stan or Presto.
2 out of 3 YouTube users say they watch YouTube on a TV screen!
Which is great because people over 60% of those people were more likely to be viewing the online video with others in the room.
And the same goes for Netflix.
In India, South Korea and Japan, people are more likely to watch Netflix on their phones, but televisions are more popular with U.S., South American and Australian customers!
Just proving that television is not being abandoned just yet, we are just changing the game and watching online video content TV! Although it does seem that Commercial TV is slowly but surely fading away, but moreso working WITH the internet.
Gemma Rowley.