Making Worthwhile Friends: Collaborating with Vloggers

Collaborating with vloggers is a great way to get heaps of credibility really fast. It creates a source of positive feedback about your brand from somewhere other than you, from someone whose words carry a lot of clout, as well as quite a few other benefits. But how do you go about creating and navigating such a relationship?
Think about the audience of a vlogger rather than just their content. A beauty brand teaming up with beauty vlogger is obviously still a great idea, because you're playing into their audiences interests, but a movie aimed at 16-30 year old women and girls (the biggest audience for beauty vloggers) could still get something out of that partnership. It's also a lot more interesting than your classic fashion/fashion gaming/gaming colab. Chances are the gender and age group that you've selected as your target audience has multiple interests, and it's an awesome idea to try and capitalise on that.
What's the best way to get vloggers on board?
Free gifts are a great place to start – everyone likes free stuff. A gifted item isn't guaranteed to result in video coverage though, as they are by no means obliged to blog about it. To make sure you get some video marketing out of it, get in contact with them and agree on the specifics first, and this will usually include some kind of payment. This is especially a good idea when it comes to product reviews: You don't want to gift them with a product and then have them say it's awful, so make sure you're getting positive exposure if the review takes place.
Taking it even further can involve having a vlogger collaborate with your brand in creating a line of products, and using their name in the product title to push sales.
Ingrid Neilson is a beauty vlogger who collaborated with Story, a New York home decor store. Whilst the connection doesn't sound obvious, this is a great example of targetting the specific audience of a vlogger rather than their exact topic of interest. It should be a given, but address them like professionals – if you're asking for a business partnership, that's exactly what they are. Know what their name is, know what they blog about, do your research before approaching them.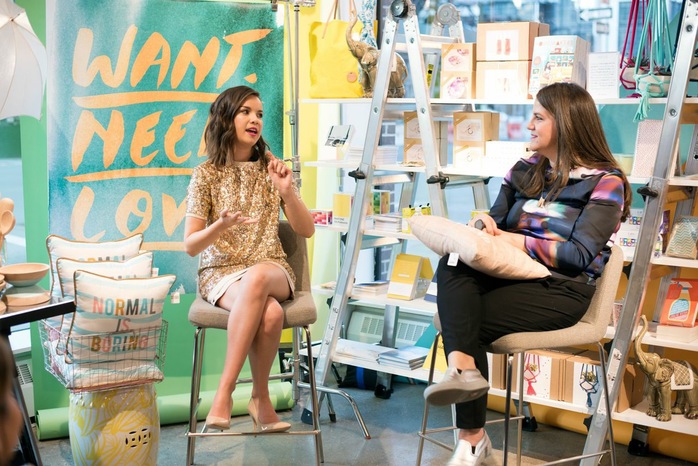 It's also really tempting to go straight for the really big blogs with the biggest audience. This seems logical in that it'll get you the most exposure, but they'll also be the ones who are overun with content submissions. Smaller and newer vloggers will be much more excited to be contacted by you, more likely to promote your brand, and much cheaper. You'll also build a loyal follower, who will likely continue to speak well of you months and years, when they've grown a much bigger audience.
Other ways to get the most out of the partnership are giveaways, which usually result in a lot of exposure (especially when the "share to win" tactic is used), and affiliate programs.
83 percent of people research a product they've never used before online before they buy it – and 71 percent  are more likely to buy after reading or watching a positive review on social media.
The biggest benefit is that bloggers come across as genuine and authentic, and their followers trust them, so when they speak positively of your brand it'll mean a lot more customer through the doors (digital or otherwise) than your average marketing campaign can muster.
It also does wonders for SEO, creating organic links that will appear along your website when people search for you on search engines. That means the search pages are full of positive testimonals, and continues to be a great marketing tool months and even years after the video has been posted.
Vlogger collaborations might not be the right choice for your brand, but it could also be extremely beneficial, so put a lot of thought into whether it could work you!