Facebook vs. Youtube

Best Video Format for Ads: Facebook or YouTube?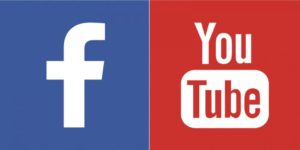 Deciding where to place your video and invest your dollars is difficult, especially when the competition is so tight. Speaking of which, did you know that Facebook has over 2.45 billion active users of which 1.62 billion use the platform on a daily basis? YouTube's figures are a little harder to estimate, but the Google-owned platform believes it has approximately 2 billion unique monthly visitors. 
Now those are figures that any marketer worth their salt will be very excited about, but they also beg the question — which platform should you focus on? 
Let's take a look at what both platforms offer with regards to some essential requirements. 
Targeting
Both Facebook and YouTube allow specific targeting which is a very good thing indeed, but there are some major differences between the two. 
YouTube
As you may already know, an account isn't required to view videos on YouTube, so targeting a specific demographic can be quite challenging. This means that a huge percentage of your target audience could be viewing videos on the platform without having logged in which isn't what you'd call ideal.
However, for those users that do log in, you can narrow down your targeting to age, gender, location, interests, and even parental status and income. But most importantly, you can target based on their search history. 
Search based targeting allows you to target users who have previously searched for topics relative to your industry. So for example, if you are in the automotive industry, you'll target users who search for car-related videos. This is a great way to ensure that your ads are served to people who are most likely to find them interesting.
Another quite specific method of targeting available on YouTube is competitor channel targeting. This allows you to place your ads on channels that are related to your industry and yes, it's perfectly legit. The only requirement is that the channel you are targeting is a partner channel. What that means is that they're set up to show ads. 
Once you find a suitable competitor's channel, YouTube will even suggest other channels to target. This is perhaps the most highly effective targeting method that serves the best ads for YouTube. 
Facebook 
Facebook is a completely different ball game. 
Thanks to the data gleaned from each individual user's profile, Facebook has a veritable goldmine of data. This data allows you to be highly specific in your targeting. 
Now there are a lot of conspiracy theories about how Facebook listens to your conversations to serve ads and content that you will be interested in. The thing is that they don't actually need to listen at all. A user's activity on the platform along with the extensive personal data found in their profile is enough for the platform to be extremely accurate in who they serve ads to. 
When fine tuning the targeting on your Facebook video ads, you can choose gender, age, location, marital status, job, location, interests, life events, and languages spoken among others. 
Pretty specific, right? But when you consider that you can also opt to target your ads to people who have already interacted with your brand in some way, you'll see just how intuitive Facebook video ads really are. 
It seems as though, in terms of selecting your audience, Facebook is the way to go, but that's not strictly true. Why? Well, aside from the fact that YouTube allows you to run ads on competitor channels, there's also the not so small matter of your audience's attention span which brings us to our next point. 
Video Length
Finding your perfect video length is a hugely important aspect to consider before you make a final decision on Facebook ads vs. YouTube ads, and here's why. 
YouTube
For the most part, viewers on YouTube tend to be more engaged with the content they are viewing. After all, they're on a video streaming platform so they are prepared to sit and watch videos. 
For this reason, YouTube will count a video as viewed only after the viewer has watched it for at least 30 seconds. If the video is shorter, it will count as viewed once the video is complete.
This means that the platform is perfect for longer video ads that require more time to deliver your message and need the audience to pay a little more attention. 
So if you have a story to tell, YouTube is your huckleberry. 
Facebook
Facebook users, on the other hand, are a little different. 
They use the platform primarily to engage with their network of friends. They expect to read statuses, view other users' photos, read posts, and of course view content in the form of videos. They're not fully invested in watching video and so, while a good percentage of them will be open to viewing videos, some will scroll on by. 
This means that the average Facebook viewer has a shorter attention span for video content as they have other content to view and 'like'. As a result, Facebook video ads and videos in general are counted as viewed once a user plays it for three seconds or more. 
So as you can imagine, Facebook is more suitable for short, snappy video ads that pack a punch and deliver a message as quickly as possible. 
Let's talk formats
Now this is where it gets really interesting. Yes, let's talk about ad formats because let's be honest, there are quite a few to choose from. 
Best Youtube Ad Formats
When it comes to placing your video ads on YouTube, there are three main options.
TrueView Ads
TrueView ads are those skippable ads that we see at the start of videos on YouTube. They're a great place to start as they're quite versatile and low-risk with as many as 78% of TrueView ad campaigns driving offline sales. 
With TrueView ads, you place a clear call to action in your video ad that can send traffic to your channel or product landing page.
Interestingly, they fall into two categories — TrueView In-Stream and TrueView Discovery. 
TrueView In-Stream Ads play during YouTube videos and across Google's display network. They can run for three minutes but the general rule of thumb is to keep it to around 30 seconds. 
TrueView Discovery Ads are essentially display ads. They are the videos that pop up alongside a playing video as recommendations for the viewer. There's no limit to the length because, after all, the viewer will need to navigate to your video ad. 
Both in-stream and discovery are great options for building awareness as they are highly visible and extremely cost-effective. 
Non-skippable Ads
As you may have guessed, non-skippable YouTube ads are those sometimes annoying ads that you have to watch in their entirety. However, as annoying as some may find them, the viewing public is starting to become much more tolerant of them and many people now view them as a small price to pay for viewing free content. 
There are two types — pre-roll ads and mid-roll ads. 
Pre-roll ads are the ads that play before a video while mid-roll ads appear at the halfway mark during a video that is ten minutes or longer. 
These ads are a great option if you have nailed down your targeting and have an extremely specific audience in mind. 
Bumper Ads
Bumper ads are a little like non-skippable ads but they are much less annoying. This is because they only last for 6 seconds and appear at the end of a video. They're ideal for sending out short snappy messages or for recycling longer video ad content. 
Choosing the best YouTube ad format depends on both your budget and your goals. However, the fact that 78% of TrueView campaigns result in more sales makes TrueView the best place to find your feet. 
Best format for Facebook Ads
2.45 billion users and over half of those using the platform daily means that when it comes to ads, there's nothing quite like Facebook. So let's take a look at what your options are. 
Video 
Facebook video ads can run on the newsfeed or in Stories, or they can run as in-stream ads and those longer videos that we watch from time to time. According to Facebook, your video ad must be a minimum of 1 second long (of course) but they recommend that you set your ad anywhere from 5-15 seconds. 
They can be viewed on both desktop and mobile and can be used to showcase a product or service. But best of all, you don't actually need recorded video to run this type of ad. You can easily use motion graphics to create a compelling ad. Kind of like the ones we create here at Punchy. 
Carousel 
A carousel ad is a series of images that the viewer can swipe from side to side to view each image. The great thing about carousel ads is that you can use them to showcase multiple products or the many benefits of one product.
So if you have a lot of information to deliver in your ad, this could be the ideal option. 
Stories
Stories ads are the ad choice for businesses targeting mobile users. They allow you to tailor your ads to people that view videos in portrait mode and make sure that no space goes to waste. 
This type of ad along with Messenger ads allows you to target an audience from over 300 million daily users. Numbers like that mean that stories ads have a significant chance of success and according to Facebook, they have already proven to be one of the formats that offer brands the highest ROI. 
Messenger
Did you know that 1.3 billion people use messenger every month? Or that messenger continues to be one of the most popular messaging apps? 
Messenger ads allow you to put your brand in front of those users and gives you access to viewers who may not spend too much time on their newsfeed. This particular type of ad is ideal for all purposes, but it's particularly useful if you want to get your prospects to start a conversation with you on messenger. 
Slideshow 
As you may have guessed a slideshow ad consists of a series of still images compiled into one short video ad. You can even use a series of short clips or simple text ads. 
The slideshow ad is kind of like a carousel ad without the viewer's interaction. The advantage here is that you're not relying on the viewer to swipe or engage with the ad at all. It's automated so they'll almost certainly get to see the complete ad. 
This is a great option if you're targeting mobile users or people who may have slower internet connections as slideshow ads use considerably less bandwidth than video ads.  
Choosing the best ad format for Facebook is a really tough one as, like YouTube, it depends on your goals and the people you are targeting. However, we will say that for its ROI and the number of people using both services on a daily basis, both Stories and Messenger are hard to ignore. 
What about audio?
We're glad you asked because this is one aspect of video ads where marketers and business owners sometimes drop the ball.
Now we're not talking about choosing music over voiceover (although it's an incredibly important decision). What we're talking about here is the fact that viewers will often view your video ads with the sound muted or so low that they can't hear it.
This is particularly true on Facebook where users will scroll through their feed or watch videos in an environment that doesn't allow them to hear the audio. For example, on a train with no headphones in or sitting at their work desk while taking a short break. 
As you can imagine, if the audio in your video ad is crucial to your messaging, then your ad will lose its impact and have little to no effect on your target audience. 
That's why it's a good idea to consider adding subtitles to Facebook video ads with important audio messaging. And while some experts believe it's not essential to do the same on YouTube, we think it's best to have all the bases covered so go ahead and add subtitles to your YouTube video ads too.
Before we leave you to make your final decision just bear in mind that a high percentage of your target audience will skip your ads. It's a fact of life. Accept it and then do something about it and luckily for you, we have a few tips on ad skipping right here. 
Oh and by the way, if you're struggling to find your creative groove or simply don't have the time to create your own Facebook or YouTube video ads, then go ahead and get in touch with one of our video specialists— after all, we're here to help.