Facebook vs. Youtube

Deciding where to place your video and invest your dollars is difficult, especially when the competition is so tight. Facebook has over 1.7 billion active users while YouTube estimates it has approximately 1 billion unique monthly visitors. As an account isn't required to view content on YouTube, it can be a bit more tricky to measure users so these figures should be taken with a grain of salt. Either way, that's an awful lot of people to be found in one place.
Targeting
Both Facebook and YouTube allow pretty specific targeting. You can target according to interests on YouTube. As mentioned earlier, an account isn't required, so it isn't really possible to target a demographic. Half of them could be watching without signing in. Facebook, on the other hand allows more specific targeting. Choose your audience based on their age, location, gender, education and interests.
It seems as though, in terms of selecting your audience and finding relevant impressions, Facebook is the way to go…but do these demographics actually matter? Consider location if it matters, but the potential audience's interests are the most important factor. Personally, I know a 17 year old girl and a 32 year old man equally passionate about soccer. Any product related to the sport is successfully sold to either of them, but Facebook's targeting would likely prevent the 17 year old from ever seeing it.
Of course, how you target an audience is entirely up to you, but the options provided by Facebook are not enough to rule YouTube out.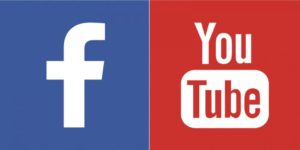 Video Length
Facebook counts your video as viewed after only 3 seconds, while YouTube doesn't count it until 30 seconds. While YouTube is better for lengthier videos that require attention, Facebook is ideal for shorter, snappier videos that can make a quick impression. Facebook users in general have limited attention spans and will scroll past a long video for more interesting content. If your video packs a punch in a short time, Facebook is a good place for you to start. If you require a little longer to get your message across, head to YouTube.
A couple of pointers
Subtitles are a must on Facebook.
Most of us, at some point or another, will scroll through our news feed in public and glance at videos on silent. Subtitles mean your audience will watch on the train and still receive your message.
All videos can be skipped.
Don't fall into the trap of assuming your video will be watched until the end. Here are a few tips on what to do about people skipping your ad.
By Emma Wilkinson